Discussion
From November 2017 all updates will be posted on the Avonmore Books Facebook page.
The purpose of this page is not to summarise the material found in our publications, but to present any additional relevant commentary or information that is brought to our attention. We welcome any such comments or enquiries which can be sent to info@avonmorebooks.com.au. Nothing will be posted on the website, however, without the agreement of the sender.
On this page:
The Empire Strikes South formally launched at Government House
Posted March 2017
The Empire Strikes South was formally launched at Government House, Darwin on 15th February 2017 by His Honour the Honourable John Hardy OAM, Administrator of the Northern Territory. Pictured here at a book signing at The Bookshop Darwin on 17th February are Tom Lewis and Michael Claringbould.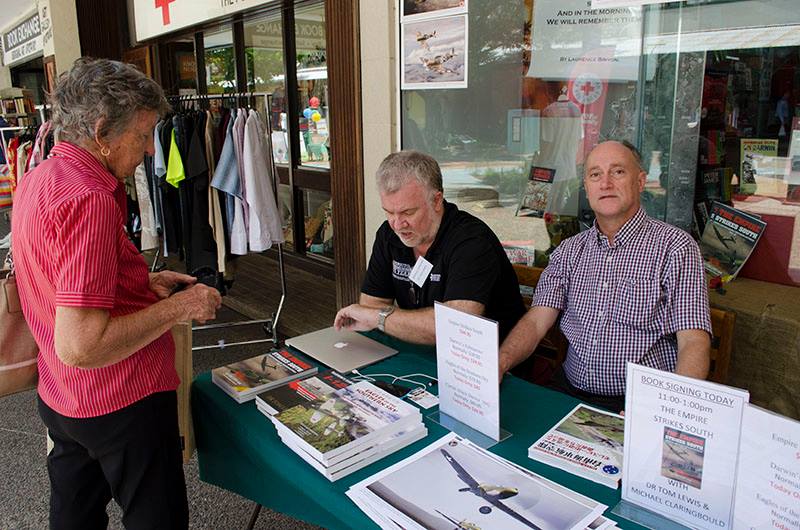 ---
Honour Denied book launch at Parliament House
Posted March 2017
Honour Denied book launch at parliament House, Hobart, 31st May 2016. From left to right: The Hon Will Hodgman MP, Premier of Tasmania; Dr Tom Lewis OAM, author; Mr Guy Barnett MP, Parliamentary Secretary to the Premier.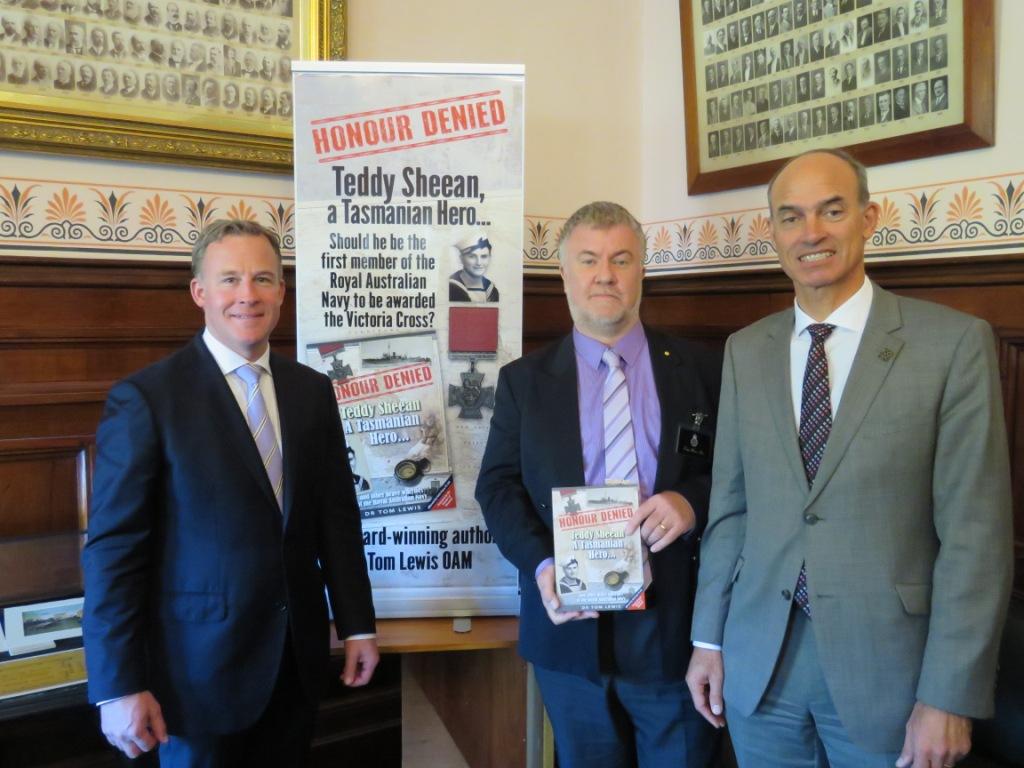 ---
Book launch for Carrier Attack at Parliament House, Darwin
Posted November 2013
"A successful book launch function for Carrier Attack was held at Parliament House, Darwin on 22nd October 2013. Many thanks to all of those that attended and especially The Honourable Peter Styles MLA, The Minister for Multicultural Affairs, for formally launching the book.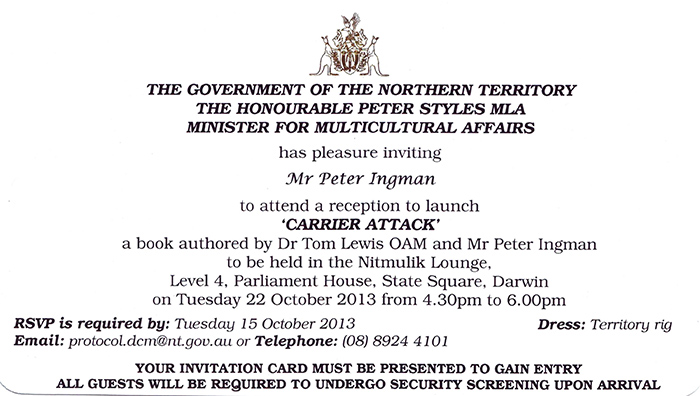 ---
The mysterious fate of Cornelius Blaak and PK-AFZ
Posted January 2012
Some months ago we received a query from a relative of Dutch KNILM pilot Cornelius Blaak. His only son is now 80 years old and knew very little about his father's death in February 1942. Blaak was the pilot of KNILM DC-3 PK-AFZ, which crash-landed in Sumatra after getting lost at the end of a flight from Broome to Batavia. Although they survived the crash landing, Blaak and three crew members were killed soon afterwards. The family had received some information from the excellent Pacific Wrecks organisation as per:
http://www.pacificwrecks.com/aircraft/dc-3/ph-afz.html
Dutch airline history specialist Richard Pflug was asked if he could shed any further light on this incident. He replied with the following in November 2011:
According to what I read, in the night of 26/27th of February 1942 PK-ALT, PK-ALO and PK-AFZ left Broome with destination Bandung. That night there were very strong winds making the planes drift. Only PK-ALO made it to Bandung. PK-ALT and -AFZ drifted of course. The radio operator on board PK-ALT remembered a technique from training called "impulse bearing" to get a tie line on Bandung. Despite heavy static he was able to get some bearing on Bandung, but was unable to determine if the were NE or SW of Bandung. They decided to fly 15 minutes due South. With no land in sight the turned 180 degrees and found Prinsen Island and Krakatau. The radio operator of PK-ALT tried to transmit this information to his colleague Pieter Pronk on PK-AFZ.
Although the mechanic of PK-ALT loaded 400 litres of fuel over the allowed take-off weight of the DC-3, the result of the drifting and searching for land is that they have insufficient fuel to make it to Andir and around 2.00 AM, some 9 and a half hours after the left Broome, they touch down at Kamajoran with almost empty tanks.
PK-AFZ never arrived.....
After the war the fate of PK-AFZ and its crew was investigated by the Dutch government. The tail section was found near Tandjung Batoe. According to interviews with locals the crew survived the emergency landing almost unscathed. At a nearby village they tried to organise a boat to get to Palembang. They were betrayed to Japanese forces and on March 1st soldiers attacked their hideout. In the following shoot-out two crew members were killed. A third crew member was hit in the shoulder, escaped to the river and presumably drowned. Radio operator Pieter Pronk managed to escape and made it back to the village, but later was delivered to a passing Japanese patrol and beheaded on March 4th.
There seems to be a copy of the full investigation in a Dutch archive. This document might be very useful; if you are interested I will try to get hold of a copy of this document.
Richard was kind enough to visit the Dutch archives, and replied with this on 23rd December 2011:
Last Monday I visited the Dutch Institute for War Documentation (NIOD) and copied their file on PK-AFZ, containing letters to Plesman (CEO of KLM), De Bruijn (Manager Operations of KNILM) the widow of pilot Nieuwdorp, the death certificates of the crew members, etc. One letter is largely written in English.
According to the reports the crew was able to get the plane on the ground largely intact. A local offered his services to help them, but instead organized a mob to rob them as they were in possession of money. Allegedly two crew members were killed; one was wounded but drowned in a swamp while trying to flee. Pronk was captured wounded and treated well by his Japanese captures. But the battalion had to move on, they decided he was a burden and beheaded him. So it's a pretty dramatic and sad story!
The family of Blaak was very happy to receive the documents. They didn't know these letters and documents existed.
As Richard mentions, the Blaak family was very happy to receive this information. Here is the wording of the English section of the report in the Dutch archives, referred to above:
Amsterdam, 7th November 1946
On February 26th, 1942, the aircraft PK-AFZ carried out a regular ammunition transport from Broome, Australia to Batavia as its point of destination. There was therefore no question of a diversion to another airfield. Atmospheric conditions were bad. There was the ordinary monsoon headwind from (the) Western direction. Thunderstorms in the Batavia region made radio contact with the ground impossible, either from Bandoeng or Batavia.
Besides, total black-out made it impossible to make out Batavia, lights could only be turned on when immediately above the airfield, so that captain te Roller, doing the same flight under the same atmospheric conditions, also passed the Batavia airfield, but by incident was able to check his position (in the neighbourhood of the Isle of Krakatou and - having 1200L more fuel onboard – could return safely. Mr Blaak's aircraft had no cabin tanks as Mr te Roller had and seems to have made a forced landing on the South East coast of Sumatra, near Palembang at Kajoe Agoung, apparently in the estuary of the river.
Batavia's wireless operator seems to have heard weak S.O.S. signals sent by wireless operator Pronk on board of the aircraft and later it was reported that the crew landed safely. Suggestions for a rescue flight with an amphibious aircraft could at that time not be followed up. The ill fate of the crew became known afterwards and nothing about the aircraft itself has been heard ever since. No debris were found afterwards or reported to have been found.
This was dated 1946. The death certificates were dated September 1947, so presumably some further information was eventually received, as summarised by Richard above.
---
Information on KNILM evacuation flights via Broome & Derby from Richard Pflug
Posted January 2012
The following was sent some months ago by Richard Pflug, summarising information in Dutch language sources. There is some good detail on the KNILM evacuation flights which took place around 2nd March. This was at the peak of the USAAF evacuation and the Broome aerodrome was crowded to capacity, mainly with huge B-17s. Some of the Dutch aircraft arrived right at this time, and were directed north to the small field at Derby. This was the only known use of Derby during the evacuations.
According to what I read the KNILM/KLM management was well prepared for the evacuation. For instance they asked Shell to direct an oil tanker with aviation fuel to the port of Broome. They also ordered spare parts to be delivered in Australia (but these were impounded by the US Army).
Although the government was in charge of making the passenger lists some crew members were able to "smuggle" colleagues on board. Captain Evert van Dijk for instance took KLM chief radio engineering C.R. Klooster on his second round trip with him as his "co-pilot", while the man was not on the official evacuation list. On the second group of planes, radio operator Hans Pool gets his friend Dick Sweitser (who got wounded when DC-3 PK-AFW was shot down over East Borneo on January 24th) on board DC-5 PK-ADC.
When Captain Van Messel arrives in Broome on March 2nd 1942 with DC-5 PK-ADB he asks if Japanese reconnaissance planes have been sighted over Broome recently. It is confirmed that an unidentified plane has passed at high altitude. Based on earlier experiences with airfields on Java, he is pretty sure this means a Japanese attack is eminent within 48 hours and decides to leave Broome as soon as possible. B17s from the 7th and 19th group however get priority with refuelling. With much persuasion Van Messel and his colleague Reyers with the L14 PK- AFP manage to get refuelled and leave. Captain Deenik with DC-5 PK-ADD has less luck. He is advised to go on to Derby and get refuelled there for the further flight to Daly Waters.
According to the book "De Douglas DC-5 - een kort maar bewogen bestaan" (translation: The Douglas DC-5 - a short but moving history) by Pieter C. Kok, Captain Dirk Rab with DC-5 PK-ADC, nearing the Australian coast heads for a course just few degrees more south of Broome, just after dawn on the morning of March 2nd he locates the small coral reefs "Rowley Shoals" and turns east to Broome.
When he arrives he also gets the advice to go on to Derby for refuelling for the flight to Daly Waters. Flying time will be some 40 to 45 minutes. The tanks of the DC-5 are nearly empty, but fearing a Japanese attack they decide to take the risk. About 30 minutes out, with Derby in sight, both engines begin to sputter and eventually stop. Captain Rab manages to land the plane safely in a field with long alang-alang grass. They are stranded without fuel, water and food. And without power from the generators from the engines they are also unable to send an S.O.S. According to the story mechanic John Gijzemijter thinks up a creative way to get out an S.O.S. When they get the tail of DC-5 down, the last bit of remaining fuel flows to the lowest point in the tank. And with this they might be able to start up an engine for a few seconds, power up the radio equipment and send an S.O.S. The passengers and crew manage to carefully pull down the tail with their weight and muscle power. Gijzemijter manages to get an engine running and radio operator Lambrechtsen sends the S.O.S. and position of the plane. The signal is picked up in Broome.
DC-2 PK-AFL with Gerrit Jan Schippers arrives in Broome at about 10.00 AM, after a flying time of 7 hours 5 minutes. They hear PK-ADC is missing but the radio transmission has been received. It takes 2 and half hours to get the plane checked and refuelled. With food and an open drum of water held in place by an American soldier, PK-AFL takes off to look for the stranded DC-5. Seeing a DC-5 at Derby Schippers thinks PK-ADC managed to reach the destination and touches down at 13.35. He learns that the DC-5 is PK-ADD. 8 minutes later he is back in the air, sees a flare and then is able to spot the camouflaged PK-ADC. He touches down gently not to spill the water in the open drum, but while taxiing he makes a sharp turn, the soldier loses his balance and the drum tips over. After transferring fuel both planes head back to Broome. PK-AFL reaches Broome at 15.40 and the crew is instructed to go on to Port Hedland. Schippers takes off again at 18.00 hours. PK-ADC stays at Broome for the night.
At midnight March 3rd the positions of the planes of the second group are:
Lockheed L14 - PK-AFP - Captain A. Reyers - Alice Springs
Douglas DC-5 PK-ADB - Captain G. van Messel - Alice Springs
Douglas DC-5 PK-ADC - Captain M.S. Rab - Broome
Douglas DC-5 PK-ADD - Captain P.A. Deenik - Daly Waters
Douglas DC-2 PK-AFL - Captain G.J. Schippers - Port Hedland
Douglas DC-2 PK-AFK - Captain F. van Breemen - emergency strip near Daly Waters (he can't find Daly Waters after sunset. Using his landing lights and finds this strip with two crossed "runways" of mowed grass some 600 metres long. And after three attempts manages to make a precautionary landing)
In the early morning of March 3rd the crew and passengers of PK-ADC have breakfast on the airfield (where according to the story there are no more non-alcoholic drinks available. Just beer). Just before the attack begins PK-ADC is the first plane of the day to get take-off clearance. As they receive the air raid warning on the radio, they go down to treetop level, to escape attention.
---
Wyndham raid photo received via WA historian Kevin Gomm
Posted January 2012
WA author / historian Kevin Gomm sent this fascinating photo of the burnt out DH-84 Dragon at Wyndham aerodrome. The damaged civil hangar is visible in the background. This was all a result of the 3rd March strafing by a squadron of Zeroes, mirroring the attack on Broome. Indeed a more well known series of photos was taken of the Broome raid wreckage and can be viewed via the Australian War Memorial online collection. However this particular photo is not from that same series, although it must have been taken at a similar time, very soon after the raid and before the wreckage was cleared up. It actually appeared in a Sydney newspaper (The Daily Telegraph), just after Wyndham was raided for a second time, on 24th March 1942. Strangely the photo never featured in the West Australian newspaper, which would seem the obvious candidate.
Kevin Gomm has extensively researched all of the WWII attacks on WA, as well as maritime events. He has visited all of the attack sites and has a detailed knowledge of anything surviving from the wartime years. His book Red Sun on the Kangaroo Paw documents each of the Japanese raids and attacks on WA during WWII. It is currently being re-released as a 70th Anniversary 1942-2012 Commemorative Edition. The book is available from www.helveticapublishing.com – indeed the site is well worth a visit, concentrating solely on WA military history.
---
New information and photos on ML-KNIL Lodestar flights from Max Schep
Posted January 2012
Dutch researcher Max Schep has some valuable detailed information on ML-KNIL Lodestar flights in February and March 1942 via the logbooks of pilots Lt Jansen and Olt Oonincx. This shows that the very first foreign military aircraft to arrive in Broome was possibly not Lt Lamade's SOC-3 floatplane, as noted in Zero Hour in Broome, but Lodestar LT 919. Olt ("under lieutenant") Oonincx flew this aircraft from Malang to Broome on 15th February, after a flight time of 330 minutes. LT919 continued on to Brisbane and subsequently remained in Australia.
Just hours after LT919 departed Broome, Lt Jansen arrived in Lodestar LT909 at 11.06am on 16th February 1942 (the SOC-3 also arrived on this same day). Jansen was flying a full plane, comprising himself, three crewmen and twelve passengers. The passengers were ML-KNIL aircrews, travelling to meet expected B-25s in Brisbane. They had departed Andir, Java mid-afternoon on 15th February, arriving at Denpassar, Bali a couple of hours later, where they stayed overnight. Soon after 5am the next morning they took off for Broome, arriving after a flight time of 349 minutes, or almost six hours. The newly arrived Dutchmen spent the day in Broome. To celebrate the occasion some of the men were photographed on Broome airfield in front of LT909. The same photographer also took a picture of some men posing in front of Lamade's SOC-3 on the tidal flats with the long jetty in the background. These are wonderful photos – thank you for sharing them Max.
The following day, 17th February, LT909 flew out at dawn, and subsequently arrived at Brisbane the next day, after stops at Daly Waters and Cloncurry. The aircraft was back at Broome on 20th February, and then made the long flight back to Java, arriving in Malang after a relatively fast flight time of just over five hours. These aircraft were very hard worked at this time. By the end of February Jansen had flown far to the west, taking passengers to Bangalore, via Colombo and Sumatra: despite the latter island being rapidly occupied by the Japanese at this time. Indeed on the return flight the pilot notes picking up women and children evacuees from Lho Nga and returning to Medan on 3rd March. LT-909 was one of the Lodestars taken to a hidden airstrip outside Andir. At 2.05am on 7th March it departed for the mammoth evacuation flight to Port Hedland. Jansen lists two crew and seven passengers onboard. He landed safely at Port Hedland at 10.20am, after a flight time of over eight hours.
Max Schep is involved with the "Dutch Profiles" series of books which looks into great detail at a selected aircraft type and its Dutch service history. Some of these types are relevant for Australia, such as the P-40s operated by 120 Squadron. An interesting edition on the subject of refugee aircraft and their markings is currently being prepared – a note will be posted when it is available.
---
Wing Tips – The Story of the Royal Aero Club of South Australia now available
Posted November 2011
Avonmore Books third book, Wing Tips – The Story of the Royal Aero Club of South Australia: Book I 1919-1941 was launched on 30th October 2011 at the South Australian Aviation Museum by the Mayor of Port Adelaide, Gary Johanson. Read more
---
Respected aviation author and historian has recently acquired a wartime Japanese magazine
Posted August 2011
This includes some fascinating photos of early wartime operations, including an aerial photo of Broome immediately after the raid. This would have been taken from the back seat of the Mitsubishi C5M2 recon / guide plane which accompanied the Zeroes. This famous picture features in Merv Prime's booklet Broome's One Day War, first published in 1985. However it was of relatively poor quality and the source was unknown, so it was not included in Zero Hour in Broome. The other photos depict "Mavis" flying boats and "Betty" bombers (including an inset showing the cockpit). Bob is happy to be contacted via bo.balford@hotmail.com.




New Japanese photos provided by Bob Alford (click to view larger)
---
Darwin's Submarine I-124 launched at Government House
Posted July 2011
A formal book launch function was held at Government House, Darwin, for Darwin's Submarine I-124. Officially launching the book was the Administrator of the Northern Territory, His Honour Mr Tom Pauling AO QC. Indeed, Mr Pauling had his own direct link with the submarine, having worked as a barrister for one of the parties attempting to salvage the submarine in the 1970s. The two photos below were taken during the launch ceremony. On the left is His Honour Mr Tom Pauling AO QC, and on the right is Dr Tom Lewis.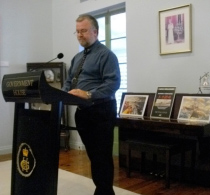 ---
Darwin's Submarine I-124 basis for ABC Documentary
Posted June 2011
With the release of Darwin's Submarine I-124 comes the very exciting news that the book will be used as the basis for a new "docu-drama" to be made by ABC TV in time for the 70th anniversary of the event in 2012. Filming has already begun on the deck of the corvette HMAS Castlemaine, which is beautifully preserved at Williamstown, Victoria.
---
Thanks to Gerard Cassius
Posted May 2011
Many thanks to the extensive feedback provided by Dutch aviation historian Gerard Cassius regarding the evacuation policy of the Dutch services. This complements some very detailed information on the KNILM evacuation flights provided by fellow Dutch historic aviation enthusiast Richard Pflug. Such information will be incorporated in any second edition of Zero Hour in Broome, or possibly some other publication. Many thanks to both of these gentlemen and others also who have provided comments.
---
Corrections & Discussion regarding Zero Hour in Broome
Posted March 2011
Corrections
As a result of feedback, the following errors have been identified in Zero Hour in Broome. Avonmore Books wishes to thank all those parties that have forwarded their comments.
Lt-Col Legg is spelt incorrectly as "Legge" (it is spelt this way in various Australian documents, and I am informed this is the English way of spelling the name).
The source for the B-24A serial numbers had been Livingstone's book Under the Southern Cross – The B-24A in the South Pacific. However, it appears that B-24A 40-2370 Arabian Night (note not Arabian Knight or Arabian Knights) was the aircraft strafed and destroyed on Broome airfield. Thus the unnamed B-24A 40-2374 was the hospital plane that was shot down in combat with Kudo's Zero with the loss of 19 of the 20 USAAF men onboard. This has been confirmed by the provision of original Missing Aircrew Casualty documents, kindly supplied by Arvon Staats, which refer to the aircraft as "B-24 No. 74". Thus while these two B-24A identities in Zero Hour in Broome have been mixed up, there is no real effect on the general events described. Thanks also to Bill Bartsch for first pointing this out.
A wealth of comments from Dutch readers and some Dutch sources have since become available. Perhaps the key detail that could have received a lot more emphasis in Zero Hour in Broome was the return gunfire from at least two or more of the MLD flying boats (probably from some of the Dorniers in particular). It is acknowledged that this return fire was significant and was probably the cause of most of the damage received by the attacking Zeroes.
No attempt was made to publish passenger lists of the Dutch flying boats in Zero Hour in Broome, thus many persons who were present on 3rd March 1942 are not mentioned. However as a result of information received such lists may be attempted in the future.
Additional Information about sole B-24A crash survivor Sgt Donoho
Another source which contains some detailed information about the fate of the Broome B-24A shot down is Every Day a Nightmare, by William H Bartsch. This is an excellent account of USAAF fighter operations in Java by a very highly regarded author. Some interesting information about the evacuation operations via Broome is included. It was published in 2010, at the same time as Zero Hour in Broome, so it was not available as a source. However it describes Donoho's fate in some detail with the benefit of a 1943 newspaper article by George Weller as well as post-war interviews and/or other newspaper articles regarding Donoho. It also describes how Donoho, after reaching safety, was furious to learn that no search had yet been mounted by Legg for the B-24A survivors. He confronted Legg with an outburst – and Bartsch suggests this might have cost the lowly Sgt Donoho a decoration! (Bartsch mistakenly says an air search had already been launched but this does not appear to have been the case by the evening of 4th March). Please also refer to The Ongoing Mystery of Sgt Willard Beatty, USAAF, below, which also overlaps with the Donoho story.
The Ongoing Mystery of Sgt Willard Beatty, USAAF (PDF, ~150KB)
The Ongoing Mystery of Sgt Willard Beatty, USAAF
Sergeant Willard Beatty linked up with Donoho in the water after the B-24A crash. They swam together for many hours until Donoho went on alone to find help. Beatty was reported to have been later found on a beach, and flown to a hospital in a coma where he soon died. However there is no record anywhere of Beatty's body or burial, and he remains classified as Missing in Action. Arvon Staats is the nephew of Sergeant Samuel Foster, who was among those lost on the B-24A. Together with Charles Jarrells he has spent many years trying to solve this mystery, and both have completed an amazing depth of research. Since 1998 they were in contact with Glenn Beatty, the brother of Willard. Get the full story here.
Bombs dropped by Zeroes?
It is well documented that the Zeroes attacking Broome on 3rd March 1942 carried drop-tanks, which they jettisoned before going into combat. These were understood to have been dropped well out to sea. In late 2010 the authors of Zero Hour in Broome were interviewed by ABC regional radio in WA. The interviewer played a fascinating recording from an early 1960s ABC Four Corners television show. This featured an eyewitness to the attack describing how a bomb was dropped and landed just a short distance from where he was standing. This remained something of a mystery until the autobiography of Dutch pilot Rudolf Idzerda was found to contain a similar story. Having arrived the previous day aboard Dornier X-23, Idzerda described watching the attack develop in the harbour from the foreshore. As a Zero zoomed towards him it dropped what was believed to be a bomb just a short distance in from him. Idzerda and others dived for cover believing this was the end, but no explosion resulted. In fact this was probably one of the Zeroes overflying the town to attack the airfield, and the pilot was late in dropping his external tank. Landing on the tidal flats it was easily recoverable. It is most likely that this is the drop tank currently on display in the Broome Museum. Indeed after seeing a picture of the tank in Zero Hour in Broome (p.14), Idzerda made the comment "that's my drop tank!"
Land Convoy
In his autobiography, Dutch pilot Rudolf Idzerda describes taking part in the hastily arranged land convoy that attempted to reach Port Hedland overland from Broome. While a few US airmen were known to have joined the Australian civilians arranging the trip, it is now known that some Dutch military personnel also took part. Idzerda was joined by two other MLD airmen, Van Lienden and Mooyart. Idzerda's book gives a brief but valuable account of this trip, including a meeting with an aborigine who seemed to the Dutchmen to be straight from the Stone Age. The three Dutchmen got only as far as the Anna Plains sheep station, where they were picked up by an aircraft flying from Broome to Port Hedland. Also onboard were Capt Ivan Smirnoff and the other survivors from the Carnot Bay "Diamond Dakota".
Airlift of Vickers Machine Guns
Some very detailed information has been received about the KNILM evacuation flights from Dutch researcher Richard Pflug (some further information will be posted in due course, including – if time permits - individual flight details and passenger lists). One question raised in Zero Hour in Broome was the reason why the fleet of KNILM airliners – especially DC-3s - made lengthy flights from Broome to Sydney with what appeared to be light passenger loads? (i.e. could they have been better used in return flights to Java or shorter passenger shuttles between Broome and Perth?). In Series I (Army) Vol. V of the Australian Official History of WWII, by Dudley McCarthy (page 10) describes how from around mid-1941 some 25 Vickers medium machine guns per month from Australian production (at the Lithgow small arms factory, near Sydney) were allocated to the Netherlands East Indies. Probably even more such weapons were rushed to Java with the Japanese invasion looming. Richard's research has found that some of the KNILM DC-3s were carrying such machine guns from Sydney to Broome. Possibly some of the DC-3s then carried the same cargo into Java, but larger Qantas Empire Flying Boats and US bombers also delivered such cargoes. While the Vickers guns would have been ideal for static defensive duties, more likely many were probably captured by the Japanese upon the surrender of the NEI.
---
Information from Andrew Arnold
Posted October 2010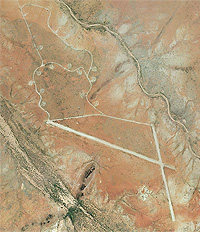 Just after Zero Hour in Broome went to press, we were contacted by Andrew Arnold, Unexploded Ordnance Liaison Officer, of the Fire & Emergency Services Authority of Western Australia. Some interesting correspondence followed, and Avonmore Books was pleased to be able to provide some useful information to Andrew.
Andrew has kindly provided a copy of a six-page detailed report, written by the 3rd Australian Bomb Disposal Coy, concerning the air raid on Port Hedland and dating from August 1942. Among the many interesting aspects of this report is a summary of the air defences of the aerodrome: limited to a few old Lewis guns and two Browning MGs salvaged from aircraft at Broome.
Download Port Hedland 1942 Bombing Raid Report (PDF, ~350KB)
Partly as a result of the Japanese raids on the WA coastal aerodromes in 1942, a "secret desert airbase" was developed at Corunna Downs, near Marble Bar. This made use of an old mining railway from Port Hedland to bring in supplies. It was used later in the war by Liberator bombers to attack enemy targets in the NEI. To the right is an aerial photo of Corunna Downs taken very recently – the surviving detail of the base is remarkable (click to view larger).
According to Andrew, this photo shows: "Corunna Downs a couple of years ago, you can still see the bomb dumps quite clearly and yes, there has been quite a bit of ordnance found in the surrounding area in recent years including the discovery of several tons of high explosive aerial bombs abandoned in the scrub about 1km east of the strip, and 40mm fixed Bofor rounds also sticking out of burial pits in the area."
Warning about Unexploded Ordnance (UXO)
Andrew advises that anyone visiting the site should do so with caution, whilst the risk of finding further UXO in the region is probably very low, no guarantee can be given the site is free from further UXO. In this regard, any ordnance or suspected ordnance found must always be treated as extremely dangerous and no attempt should ever be made to touch, handle or move the item(s), including any attempt to souvenir or transport by road to another place. Without disturbing the immediate vicinity of the UXO, the site should be clearly marked so that it can be found again later (GPS is always very handy) and its location and a clear description of the item(s) (camera or phone photo's also very useful) reported to the nearest Police ASAP. Remember, these things were designed to do one thing only, that is to kill and maim. Even though they may have been laying out in the desert for many decades, they can remain active and just as lethal as the day they were made!
---
Weapons held at Broome Museum
Posted October 2010
The Broome Museum is a fascinating institution with a huge collection of historic material, managed mostly by volunteers. Just a portion of this reflects the 3rd March 1942 raid, most of the material is related to the towns diverse and cosmopolitan heritage. However, among the collection are several machine guns. These are all aerial machine guns and are presumed to have come from aircraft destroyed during the Broome raid. Most are missing key components and some have been "refurbished" by well meaning persons but with a result that does not reflect their original condition. These guns are of particular interest as they would all have been made before Pearl Harbour and long before the great American industrial machine began producing huge quantities of later homogenous versions of such weapons.
Especially on Broome aerodrome, the aircraft and their ammunition burnt and exploded, but the guns themselves largely survived. Records show that some 22 such guns were immediately salvaged and sent south. Just 6 guns were kept in the northwest to provide some means of defence – in March 1942 there were no machine guns in the entire northwest area. Obviously lacking proper mounts and ammunition these were of limited use but probably provided some token reassurance to those that remained. Of the 6 guns, two were later reported to be in use defending Port Hedland aerodrome (see the information from Andrew Arnold above). Another contemporary report ordered one of the 0.50 calibre MGs at Broome to be sent to Wyndham – it is unconfirmed whether this move took place or not.
Regardless, the surviving machine guns may have been non-operational or salvaged and held privately for many years. At least two of the guns were recovered during an expedition to Broome by Stan Gadja c1980. Obviously close examination by a suitably qualified gunsmith is recommended, and it has been suggested that the Museum should send some of the guns to a suitable facility for proper refurbishment.
Photos of the weapons follow along with some basic commentary. Information or comments can be sent to info@avonmorebooks.com.au. Any useful input will be passed on to Broome Museum.

This gun was recovered from one of the six "drying wrecks" (i.e. flying boat remains visible at extreme low tide) by Stan Gadja c1980. In Zero Hour in Broome, the authors contend that this is a Colt MG40 0.30 calibre machine gun (essential a licence-built version of the well known Browning design, except with slots rather than holes in the barrel). Gus Winckel used such a weapon from his Lodestar to defend the aerodrome, suggesting that the NEI forces had purchased a batch of such models from the USA.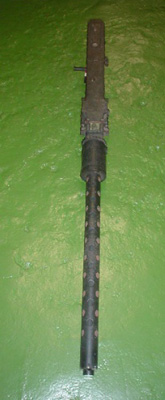 This Browning 0.50 calibre gun was recovered from the Broome rubbish tip by Stan Gadja c1980. Mr Gadja contends, and it seems most likely, that this was from one of the twin turrets on either of the two B-17Es destroyed on the aerodrome. It was probably useless as a weapon as the turret firing mechanisms and other assembly would have been destroyed. The s/n of this gun is 102383, which is within a batch dated as being completed in December 1940.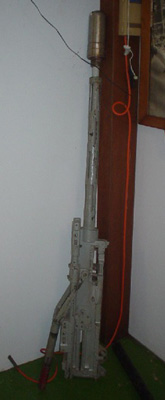 Another 0.50 calibre Browning MG; the device on the end is believed to be a flash supressor, intended to protect the firer from being blinded. It has been suggested that the mount is of naval origin – various parts are missing but otherwise it is quite different from standard aerial versions. The grey paint on the gun itself is probably non-original – presumably it would burn off when the gun was fired. It may have been painted to match the original colour of the mount. This may have been from one of the USN PBY-4s destroyed at Broome (these did not have the "bubble" waist positions as later PBY models did), but that is really just speculation. Any other feedback or commments on this weapon would be very welcome.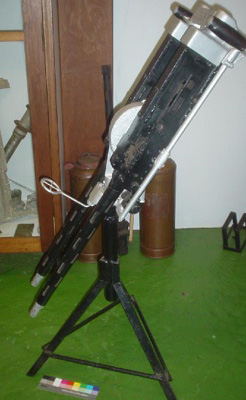 Twin 0.30 cal guns complete with part of original mount which has been refurbished locally at some stage: e.g. note the crude sight. The tripod appears to be just a way of displaying the guns and not part of the original mount. Unfortunately much of the markings of the weapon are obscured: probably by layers of paint. Some of the readable markings include "Bell Aircraft Co., Buffalo, NY". The Zero Hour in Broome authors have suggested to the museum that the most likely source for this weapon was the tail gun position of the B-24A destroyed on the airfield during the attack. Being at the extremity, the heat would have been less intense and hence parts of the original mount and handles appear to have been preserved. Stan Gadja in his c1980 visit referred to a twin machine gun being on display at a Broome school – it is unclear if this is the same weapon.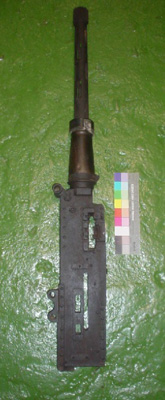 This appears to be a Hispano-Suiza 20mm automatic cannon as employed on the Dutch Do-24 flying boats. Three Do-24s destroyed at Broome (X-20, X-23 & X-28) were armed with such a weapon. It might have been recovered at the next low tide after the raid, sometime after the departure of the last Dutch forces, and retained locally as a souvenir. Most if not all of the ammunition would have been lost, making the weapon (also without a suitable mount) virtually useless even if it was in working order. Various parts are missing and it may have been re-assembled locally to incorrect specifications – the authors have not been able to find a picture of such a weapon to compare with directly. The basic design was very successful and was used as an aircraft gun in many different versions for many years.