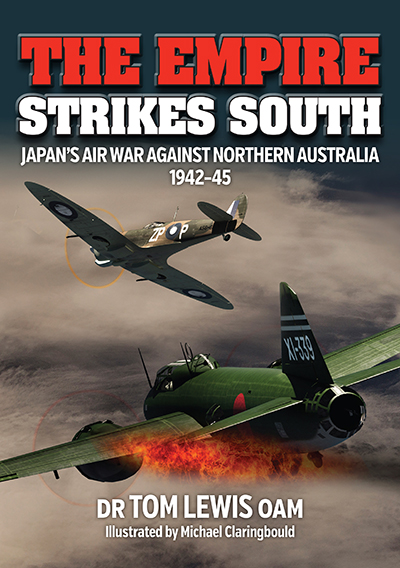 by Dr Tom Lewis, OAM
Japan's Air War Against Northern Australia 1942-45

Now Available
"... a very comprehensive account of all the known Japanese missions with much material I haven't seen before ..." John Lundstrom, February 2017
Acclaimed US military historian and author of The First Team
New: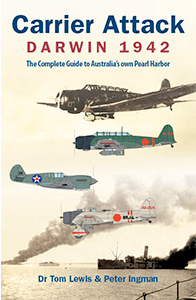 Carrier Attack - Darwin 1942: The Complete Guide to Australia's own Pearl Harbor
Clearance Sale Save 40%
Now Available »
by Dr Tom Lewis and Peter Ingman
This is a much anticipated major new work that analyses what was the biggest Japanese air raid ever conducted in the South Pacific region. Using newly translated Japanese documents much new information is presented, as well as some surprising conclusions. This is a large hardback book and includes 17 appendices. More information including sample pages is included here. More » Recent reviews:
Bob Hacket, Combinedfleet website
Bill Stone, Stone & Stone WWII books, California
The Weekend Australian
The Canberra Times and The Age
Headmark, Journal of the Australian Naval Institute
Victorian RSL Journal – Mufti
Naval Historical Review
Grub Street Aviation History Classics – last stock from distributor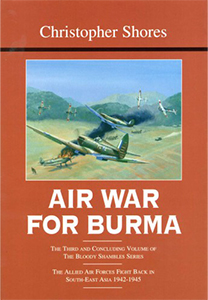 Air War for Burma
SOLD OUT
An aviation history classic! The third and concluding volume of the Bloody Shambles series.
by Christopher Shores

More »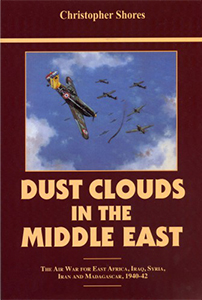 Dust Clouds in the Middle East
SOLD OUT
Air War for East Africa, Iraq, Syria, Iran and Madagascar, 1940-42
by Christopher Shores

More »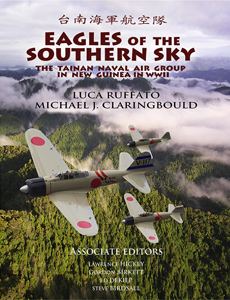 NOW AVAILABLE
Eagles of the Southern Sky
Clearance Sale Save 40%
Avonmore Books is proud to be the Australian Distributor for Michael Claringbould's much awaited history of the Tainan Air Group in New Guinea titled Eagles of the Southern Sky. This is a beautifully presented book of amazing quality and detail. Check out samples of the book at www.tainanbooks.com, but to buy the book in Australia use the Avonmore Books website.
Officer of the Deck
Reduced to Clear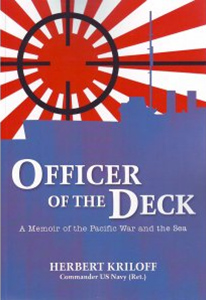 Avonmore Books is also proud to annouce a new edition of Officer of the Deck, by Herb Kriloff. Kriloff was a young officer onboard the seaplane tender USS William B Preston, part of the Asiatic Fleet based in the Philippines at the start of the Pacific War. Kriloff's experiences include surviving the massive air raid on Darwin on 19 February 1942.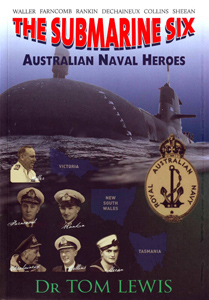 The Submarine Six
Reduced to Clear
The Submarine Six, by Dr Tom Lewis, was launched to a full house at the Australian National Maritime Museum, Darling Harbour, in February 2012. In the 1990s the Royal Australian Navy broke with tradition and for the first time named its warships after people – six new submarines in fact. These were named after six Australian naval heroes, all of whom served in WWII. Four of them made the ultimate sacrifice. These six men, Collins, Dechaineux, Farncomb, Rankin, Sheean and Waller, all have extraordinary tales to tell. Also, it remains a historic curiousity that no member of the RAN has ever won a Victoria Cross. Currently the Defence Honours and Awards Tribunal is examining whether there is a case for retrospective VCs to be awarded to men such as Rankin, Sheean and Waller. Do they deserve such recognition?
Read more about The Submarine Six »
Read the foreword to The Submarine Six, written by the Chief of Navy »
Read a review of The Submarine Six from the naval journal Headmark »
Avonmore Books is a specialised military history publisher and distributor based in Adelaide, South Australia. Our core interests are WWII in the South West Pacific Area, as well as various aspects of aviation and naval history.
In 2011 Avonmore Books is proud to release its second title Darwin's Submarine I-124. This is a new and improved version of a 1990s work by the award-winning author Dr Tom Lewis. I-124 was one of a number of minelaying submarines that undertook the first Japanese attacks on Australia in January 1942. It was sunk off Darwin harbour and remains there to this day. Both wartime events and the post-war history of the wreck are chronicled as the submarine has always attracted much interest, including plans to raise the vessel. Read More
The book was formally launched on 7th July 2011 by the Administrator of the Northern Territory, The Honourable Tom Pauling, AO QC, at Government House, Darwin. See here for further information and pictures.
Reviews:
" ... a real tour-de-force ...meticulously researched and presented ..."
Professor Alan Powell
(History Department, Charles Darwin University)
Avonmore Books' first title, Zero Hour in Broome, was released in late 2010 and has received much interest and comment throughout Australia and overseas. It has been discussed on both ABC National and Local radio in Australia and has been featured in several magazines and newspapers. These have ranged from national media such as The Weekend Australian to the local Broome newspaper as well as various specialist publications. The book has also been sent to dozens of overseas customers, most notably in The Netherlands and the USA. As a result several interested parties have contacted Avonmore Books to add their own comment regarding Zero Hour in Broome. A number of interesting additions and corrections have been identified and these can be found on the discussion page.
Reviews:
"A splendid book ... it leaves me with a good feeling that such a well-documented account on what happened in Broome has finally been published."
Rudolf Idzerda*
(navigator onboard the MLD Dornier flying boat X-23)
Overseas Customers: please note the e-commerce facility on this site only works for Australian delivery addresses because of the need to quote different postage rates overseas. Overseas customers please email shop@avonmorebooks.com for a quotation.
*(Rudolf Idzerda's life story is an extraordinary one. Growing up in the Netherlands East Indies, he joined the Dutch Naval Air Arm and evacuated via Broome in March 1942, witnessing the attack. Decades later he retired as a Rear Admiral in the same service. So interesting is his story that Avonmore Books has his autobiography available in Australia for the first time: see Adventures of a Flying Dutchman)
Broome Raid Facts:
The Japanese attacked on 3rd March 1942.
The Broome raids included: Wyndham raid 1942, Derby raid 1942, Port Hedland raid 1942.
United States vesesl included the USS Childs, the USS Heron and the USS William B Preston.
During the Broome evacuation, various transports where used including Java Qantas shuttle flights.
Aircraft involved included the NEI Lockheed Lodestar, NEI Douglas DC-2, NEI Douglas DC-3, NEI Douglas DC-5, NEI Lockheed Model 14 Super Electra, NEI Martin 139, Glenn Martin bomber and the Lockheed Electra.
The American-British-Dutch-Australian Command (ABDA) was in command of Allied forces in area.
Some of the military personel included: Captain Lester Brain, Gus Winckel, Lt-Col Legge and General Plant.